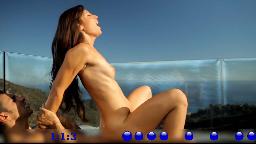 60:11
Follow the beat as 20 super sexy couples fuck their way through 12 rounds and a variety of intense sexual positions!
Play in 3 different modes in solo play or ask your partner to join and fuck your way through the game.
Did you love EROS! ? Then watch for all the aspects you loved plus improvements and surprises!
Content: Beautiful people fucking in a variety of positions with a touch of anal.
- Beat Meter throughout with simple but challenging beats.
- Fun music with male, female and duet vocals.
- 20-30 second breaks.
- Amazing reward round.
- Options for reward based on mode selection.