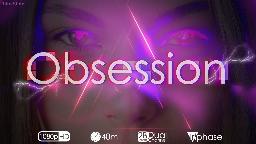 0:00
There are two ways to experience this video tease.
2B Users - Dual Channel:
2B units are known for washing out some types of e-stim signals. I feel we often forget the unit was originally designed to stim with music. The music audio in Obsession has been specifically selected and tuned to work with the 2B's stereo input mode (tested on 2.106 firmware). You don't need to do anything special. Simply stim to the music as though it was any other stim file. Please note, it will give a different experience. Because it is music, parts might fade in and out when there would otherwise be a signal. This is intended.
Triphase:
For everyone else, there is an included triphase file that syncs up to the video. During testing, lolol2 adjusted the original triphase file with a bit more ramp and a different ending signal. I have included that version so you are free to choose either one.