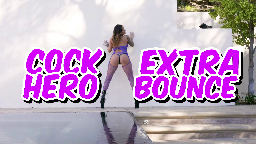 89:40
Extra Bounce is a hardcore-heavy 90 minute sequel to Cock Hero - Bounce for all you booty worshipers out there! Like CH Bounce, it's still all about the fast-paced, beat-pumping, big ass action, but with a slightly different structure and some general improvements. Instead of a mix, all the tracks play separately from start to finish and can work as stand-alone PMVs.
The most important QoL addition is the beat change indicator. The beat patterns are generally less complex and easier to follow than in Bounce, but the indicator should make following the beat even easier. Also, since I'm using full tracks, the core beat patterns repeat more often per track, giving you a better chance to master them. The other QoL addition is adding the names of all the performers in the upper left corner, usually when they first appear at the start of each track. Most of the comments I got on PH for Bounce and Super Impossible were just people asking for names, so I'm hoping this will make things easier for everyone.
Difficulty: If you like big butts (and cannot deceive), this will likely be very difficult. There's also a lot of long x2 time beat segments during boss tracks and in the last third of the video which can be pretty tough to get through.
Styles: Hardcore with a bit of softcore
Porn: Teasing, big butts, twerking, female masturbation, lesbians, hardcore, anal, DP, threesomes, reverse gangbang, POV
Rounds: No conventional rounds, though each of the 25 tracks works as a mini-round that may or may not be dedicated to a specific theme.
Beat meter: Waveform track with audible clicks and a beat change indicator.
Music: EDM (moombahton, trap, breakbeat, dirty dutch, jungle terror)